Ask The Psychologist Issue #40: Scotopic Sensitivity (Irlen Syndrome), The Fixable Invisible Impairment Athletes and People In General Experience
Posted by Bart Billings
Posted on April 19, 2022
Comments Off

on Ask The Psychologist Issue #40: Scotopic Sensitivity (Irlen Syndrome), The Fixable Invisible Impairment Athletes and People In General Experience
In the early 1980s, I was seeing many young people that were referred to me with a diagnosis of specific learning disabilities (SLD). Many of these individuals were on psychiatric medication for what the schools identified as necessary to help them with they're learning disability. Such black box warning psychiatric medications as Ritalin, etc., were prescribed for most all students with the label of SLD. These medications have severe side effects and that is why they have a Black Box warning from the FDA.
During this period of time, I was totally against drugging our young people in schools, as well as anywhere else. I looked for other reasons why a young person was diagnosed with an SLD label. I remember reading an article at the time about a college counselor who was helping students with a diagnosis of SLD and proceeded to contact her at California State University, Long Beach. Her name was Helen MS, I made arrangements to meet with her to discuss her success with her students. At that time, she described her students as having scotopic sensitivity. When meeting with her, she went on to describe that her students were sensitive to various light ban spectrums, which resulted in various difficulties, including attention and concentration, reading, acting out behavior, etc.. Having personally worked in a teaching hospital with neurologists evaluating patients with seizure disorders, what Helen stated made initial sense to me at the time. I recalled, when at the medical school, we triggered seizures by strobing lights, so we could find the seizure focal point in the brain and remove it with brain surgery. When a light is strobed, the red light ban increases causing the seizure. We also discovered that no seizure occurred when we placed green sunglasses on the patient. Therefore the red light ban triggers the seizure when no tints are worn and when we eliminated the red light ban, with the green tinted sunglasses, there was no seizure.
After interviewing several of Helen's students and being impressed by what they had to say, in overcoming what they had been identified with as having a SLD; I felt strongly, based on my past experience and what I was seeing, that Helen had discovered a significant treatment for individuals with a diagnosis of SLD.
Being from a previous health science employment situation, at a medical school teaching hospital, I was naturally skeptical why Helen's students were doing so well. I requested to see the students in my office, where I could have a neurologist perform an EEG on five of Helen's students. When I explained this to my friend, the neurologist, he was skeptical and did not expect any significant findings. To both our surprise, when the students were requested to read, without their individualized tinted glasses, there was significant brainwave activity. When they put their glasses on and continued reading, the brainwave activity was noticeably slowed, without significant peaks and valleys. Both the neurologist and I were totally surprised at the results of the EEG. This demonstration made me a believer in what was then called scotopic sensitivity and now called Irlen Syndrome.
A GOD-SENT FOR ATHLETES
Not only did I find that individualized Irlen tints were helpful to students and people in general, but they had a major impact on an athlete's performance. I personally had many of the symptoms of scotopic sensitivity, with one being only able to read for 20 minutes or so before tiring. Another was squinting in the sun and always wearing sunglasses. I discovered that people, who were not scotopic, were not affected in this manner by the sun and could read for hours. Most often they don't wear sunglasses (Should wear to avoid UV rays anyway). I was told by Helen that she found 23% of the population is scotopic and it adversely affects 7% of this population.
Both my daughters have scotopic sensitivity since it runs in families. Their life has improved dramatically since they got their tints, which are totally different colors than mine, since the light ban that affects them is different from mine. That is why an individual evaluation should be done for each person to determine what tint will work best. When this happens, there is no color of the tint seen when looking through them (Not like regular sun glasses), since it only appears crystal clear.
Years ago I vividly recall a young man who was a senior in high school, being referred to me to evaluate whether or not he had a SLD. He was a Olympic caliber athlete who was having trouble with his sport. After talking with him, I determined he did not have an SLD but had scotopic sensitivity.
I referred him to the Irlen Institute in Long Beach CA for an evaluation. When he returned to see me after he received his individualized tints, he stated that he was now hitting his mark on his first attempt continuously (Previously took 3 tries) and his overall performance in the event improved. A side benefit was that he totally got off the brain altering Ritalin, which he was taking for the mistaken diagnosis of SLD. This case was not unusual for me, since practically 75% of the individuals that were referred to me to confirm a SLD diagnosis had in fact, scotopic sensitivity.
 BRAIN INJURIES AND LIGHT SENSITIVITY (SCOTOPIC SENSITIVITY)
 It's not unusual for someone who has experienced a brain injury to develop light sensitivity. I remember a patient, who after having a head injury, developed a very slow rate of speaking and was physically unstable. Once she was determined to have light sensitivity after her injury, she was prescribed Irlen tints. When wearing the tints, her walking gait was normal and her speech became normal. When removing the tents, she immediately returned to an unstable slowed gait and her speech became very slow as well. She appreciated the afects of the tints and even wore them into the shower.
 One of my friends was a National Football League player, who invited me to speak to the NFL Alumni Society. I spoke about traumatic brain injury (TBI) and chronic traumatic encephalopathy (CTE). I also spoke about scotopic sensitivity, since individuals with any type of brain injury have a propensity to develop light sensitivity. After my talk, I had the occasion to be invited to meet with several former NFL players to help them deal with their residual effects of CTE.
 My involvement with some of these NFL players led me to be invited on several sports talk radio shows in the San Diego area. Chet Forte and Steve Hartman interviewed me on various occasions regarding CTE, as well as Hacksaw Reynolds. Hacksaw called me within a week after the NFL star linebacker, Junior Seau committed suicide. I explained that between the rumored medications Junior was taking and his CTE, suicide was an adverse reaction to both. Hacksaw told me that no autopsy was performed yet and how could I be certain junior had CTE. I explained to him that the nature of major league football is that 100% of the players have a degree of CTE, based on what position they played determining the severity. Hacksaw was unsure of my comments but invited me back on his show a year later, when the autopsy report revealed that Junior had severe CTE.
 My involvement with sports, like many people in the United States, goes back to grade school and high school sports. I played all sports and especially loved baseball. I recall pitching a one-hitter in an All-Star baseball game when I was a teenager and also playing baseball briefly on the Army baseball team.
 Therefore, it's no wonder, being a fan of baseball and retired military officer, which motivated me to  work with the San Diego Padres, persuading them to agree to provide lifetime tickets to Prisoners Of War from World War II and Korea. That led to me being invited to meet with the major-league baseball commissioner in New York City, where I attempted to persuade him to have all major league teams follow in the Padres footsteps. It was a great experience since coincidentally, I visited on the day that they were announcing the All-Star game to be held the last year of the old Yankee Stadiums existence, before the new stadium opened. They invited me to participate in a batting cage activity in front of the major league baseball building, where Yogi Berra was the batting coach and other dignitaries, such as Derek Jeter, the Yankees owners and other professional players attended. At that time, I had my tints on and realize I was able to see the ball better, than I ever did when I was younger playing baseball.
 I became aware then that there are major league baseball players who, as good as they are, could be better, since some are scotopic sensitive. I've noticed some major league baseball players constantly wearing sunglasses and even at times, switching the different colors of their glasses in an attempt to see the ball better. It becomes obvious for me when watching a game, to pick up, who would benefit with the proper individualized tints, based on seeing them missing pitches they should have hit easily, constantly wearing sunglasses, not finding the ball quickly on fly balls, being inconsistent in their performance, etc.
The problem is that many in the health profession for ball teams are not familiar with scotopic sensitivity being a neurological problem and not a vision problem.
It's too bad since young people idolize sports figures, they cannot learn from them what scotopic sensitivity really is, by the player actually knowing about it and having the knowledge to discuss it openly. But I have spoken hundreds of times to people in the medical field and many of them don't even know what a physiatrist is (A Physical Medicine and Rehabilitation Medical Doctor), although its been a medical specialty recognized by the AMA since 1937.
So is it any wonder that the medical profession and people in general don't know what Scotopic Sensitivity- Irlen Syndrome is.
---
 Bart P. Billings,Ph.D.
COL SCNG-SC, Military Medical Directorate (Ret.)
Licensed Clinical Psychologist CA PSY 7656
Licensed Marriage, Family Therapist CA LMFT 4888
-Director/Founder International Military & Civilian Combat Stress Conference
-Initial Enlisted Ranks and Retired as Medical Service Corps Officer with a total of 34 years in US Army
-Recipient of the 2014 Human Rights Award from Citizens Commission on Human Rights International & The University Of Scranton "Frank O'Hara Award" in 2016.
bartbillings@yahoo.com
http://bartpbillings.com ("Invisible Scars" & "Unhealthy Eating …" Books Website)
www.combatstress.bizhosting.com (Combat Stress Conference website)
www.youtube.com/watch?v=F02HElsg8uI
—Cell 760 500-5040
—Ph  760 438-2788
AVAILABLE NOW
"INVISIBLE SCARS" is available at Amazon.com: http://a.co/1WKPjsc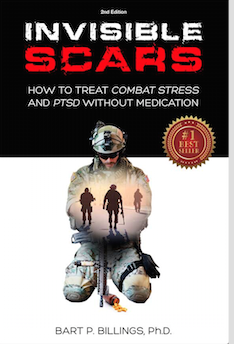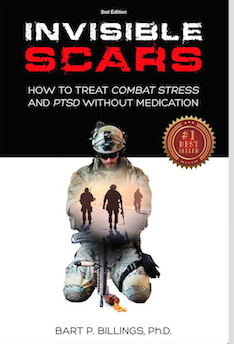 Some Amazon 5 Star Recent Customer Reviews
– This Book Saved My Life.
– I am sure that this book will save lives.
– 25 pages into Invisible Scars, I knew that it was the second most important book I would ever read…after the Bible. — David T. Ossian, Asst. National Vice Commandant , Marine Corps League
– This book is life changing…everyone needs to read …. 
---
MOST CURRENT NEW BOOK
"HEALTHY EATING" is available at Amazon.com: http://a.co/4wlhtsa