About the Author
About the Author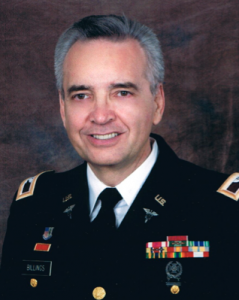 Bart P. Billings, Ph.D.
COL SCNG-SC (Ret), Military Medical Directorate
Licensed Clinical Psychologist PSY 7656
Licensed Marriage, Family Therapist MG 4888
-Director/Founder International Military & Civilian Combat Stress Conference
-Initial Enlisted Ranks and Retired as Medical Service Corps Officer with a total of 34 years in US Army.
-Recipient of the 2014 Human Rights Award from Citizens Commission on Human Rights International —The University Of Scranton "Frank O'Hara Award" in 2016. 
Dr. Bart P. Billings has been working in the fields of Mental Health, Human Services and Management for over 50 years. He has possessed licenses in Clinical Psychology, Marriage and Family Therapy and has past expertise as a Certified Rehabilitation Counselor. In Feb.2014, he received the International Human Rights Award from the Citizens Commission On Human Rights (CCHR). Dr Billings most recent award on June 3, 2016, was presented to him from the University where he received his BS and MS Degrees, the University Of Scranton. This Jesuit University's highest award is the Frank O'Hara Award, given for living the Jesuit values of Serving Others over his career.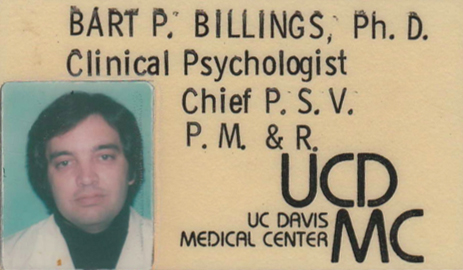 He has an extensive background in Management and Program Development. He has a PhD in Research and Program Development from Saybrook University as well as a PhD in Psychology from the same University. He first became an author in 1974, when he wrote the text, "The Development Of A Transitional Rehabilitation Program For Mentally Ill Offenders', published by Free Person Press / San Francisco CA. His education and experience also allowed him to work as Chief of Professional Services/Assistant Director at the University of California, Davis Teaching Hospital's Physical Medicine & Rehabilitation Department.
He also founded the Institute For Occupational Services (IOS).   He was the Commanding Officer for an Army Reserve General Hospital Section & has served a total of approximately 34 years in the US Army as enlisted and as an officer. His highest military rank was Colonel (SCNG-SC Medical Directorate). He has founded and directed: The Annual International Military and Civilian Combat Stress Conferences (24 yrs.), Prisoner of War Conferences and the military wide Human Assistance Rapid Response Team (HARRT), which was accepted at the Pentagon in 1997 as a readiness protocol to be implemented military wide.
He was a guest on HBO's Vice News, previously ABC's Night Line and US News And World Report. He has been featured on national & international documentaries, TV news shows and extensive radio shows, discussing Combat Stress. He has given testimony to Congressional and at State Legislative Hearings on the need for better Mental Health Treatment Programs for military personnel and their families. Some of these hearings resulted in the awarding of a multi million dollar Department Of Defense grants for national research on how to improve treatment for Post Traumatic Stress Disorder and Traumatic Brain Injuries. He is responsible for initiating Congressional Hearings held on Feb. 24, 2010, providing Congressional Hearing testimony on the relationship between psychiatric medication and increased suicides in the military (available on the Congressional Record). September 2012 he lectured to some of the psychology faculty at West Point Army Military Academy.
On June 5th, 2003, he was named as a member of the Governors Advisory Board to Patton State Hospital, California. He has worked overseeing all psychological services for the San Diego District of the California Department of Rehabilitation. He has developed residential treatment programs in substance abuse and alcoholism, as well as human assistance programs for the civilian and military community. Recently he wrote a chapter in a book for attorneys called" Attorneys Guide to Defending Veterans in Criminal Court". He is a member of the National Center for Youth Law Medical and Scientific Advisory Board. Dr. Billings had been senior faculty at the William Glasser, MD Institute for over thirty years and has thought classes at the University of San Francisco, University of California Davis, United States International University, etc., as well as workshops on counseling and management throughout the United States. He speaks on Health and Nutrition with the focus on "The Psychology Of Eating, How We Choose To Eat – Alternative Thinking/Healthy Cooking". As prior owner and operator of a restaurant for 4 years, he practiced his teachings.
He was the founder and president of a manufacturing company called TBH Productions that produced OmniSonic professional audio loudspeakers. His work with sound and vast experience in the medical field has resulted in him writing an article in the Navy Medicine Journal titled, "The Sound You Feel Can Be Dangerous To Your Health "(Jan-Feb 2002, p.22-26), which deals with Vibroacoustic disease. He also was published in The Hearing Journal (August 2019-Volume 72 – Number 8), " Vibroacoustic Disease: More Than a Hearing Problem". He was awarded an Honorary Chaplain Certificate from the Georgia State Defense Force.
He has also volunteered for charities at times as a performing arts – special events director, producer and writer for over thirty years. One of the show he is most proud of writing and producing was, "Good Grief Its Lucy, (For the International Missing Children's Foundation), collaborating  with the producers of the TV Peanuts series producers ,who contributed 7 original songs for the show. He has directed The All American Festival, which raised funds for Veterans Scholarships. From April 2008 until November 17, 2012, he personally owned a very popular restaurant/bar in La Costa California, drawing a large number of retired and active duty veterans, who often spoke to Dr Billings about their own personal issues with combat stress problems. The restaurant catered hundreds of events, both in the local community as well as at the Camp Pendleton Marine Base. One event there was for the Department Of Defense Secretary's visit, with 500 guests being personally served by the restaurant staff. Even before COVID, Dr Billings had a strict policy that at all catering events, he had his staff serve every single guest personally. An article in the military section of the North Coast Times (9-17-10) described his work with veterans and their visits to his restaurant, including Officers Staff Meetings and Marine Family Dining – In's. In the 2018 winter issue of The Marine Corps League's Semper Fi Magazine, he was interviewed on Combat Stress Issues.  He was also asked to be a Commissioner for the CCHR International organization. His book titled " Invisible Scars – Treating Combat Stress, PTSD Without Medication " (Number One Best Seller on Amazon), covers over 40 years of his work with Combat Stress' residual effects on our veterans and their families, with the Marine Corps League distributing over 1000 copies to its members for use in peer groups.