Ask The Psychologist Issue #35: Veterans and Their Treatment by the Various VA Hospitals, Good or Bad?
Posted by Bart Billings
Posted on December 21, 2021
Comments Off

on Ask The Psychologist Issue #35: Veterans and Their Treatment by the Various VA Hospitals, Good or Bad?
After the last two editorials of Ask The Psychologist, I feel it was fitting to share my thoughts and those of what was reported in USA Today Newspaper on November 1st, 2012.
I have been asked numerous times, what I thought about the Veterans Administrations treatment of our Veterans. The last 2 issues of Ask The Psychologist entitled, "
#33

,

Just thinking about non-stopped Veteran suicides resulting in possible Government savings, with TV series and news interviews focusing on the subject and issue #34

,

Veterans Day Radio Interview on Veteran Suicide by Bart P. Billings, PhD

".
If one has read my book, " Invisible Scars," chapter 11 covers a Marine Veteran suing the VA in Pennsylvania for Standards Of Care Violations. The Veteran won about $3 1/2 million, when the government appealed the initial $7 million awarded. What does this award say about treatment at the VA?
I have also done expert witness work for a veteran in Arizona on a similar matter with the VA that is described in "Invisible Scars".
The below excerpt (Copied directly, as best possible, from USA Today article) is part of a larger story from the USA Today Newspaper and is about a Veteran I have been advocating for, for over the past 3 years. It's sad but true, as written by an investigative reporter, who had it published in USA Today November 1, 2021.
P.S. Just this past week, we were able to convince the Semper Fi Fund, to provide funding to this veteran for Home Health Services and House Cleaning, that the VA has neglected to do over the past several months.
As you read the article, you will see how important these services are for this veteran's critical medical care being accessible. Thank God for the Marines in providing this help that goes above and beyond what this Fund provides. What a great Christmas present they provided for this veteran.
CHRISTINE RUSSELL'S STORY: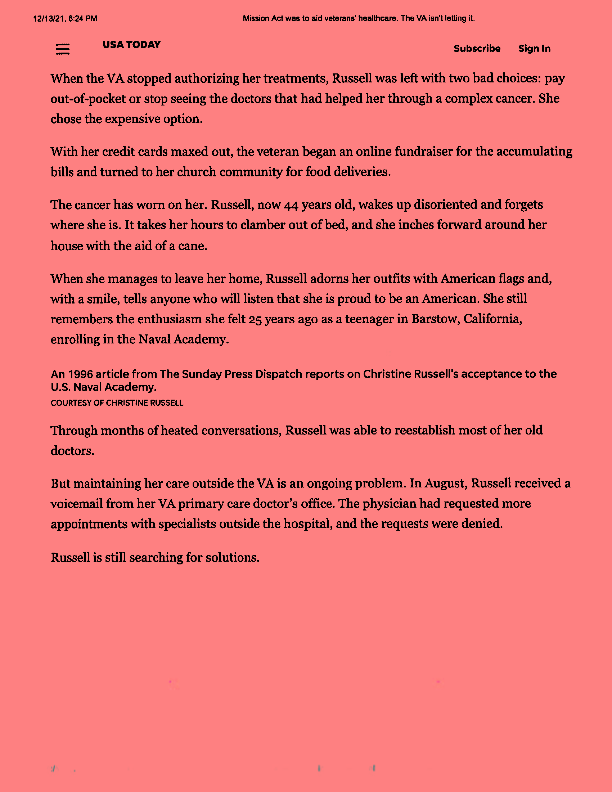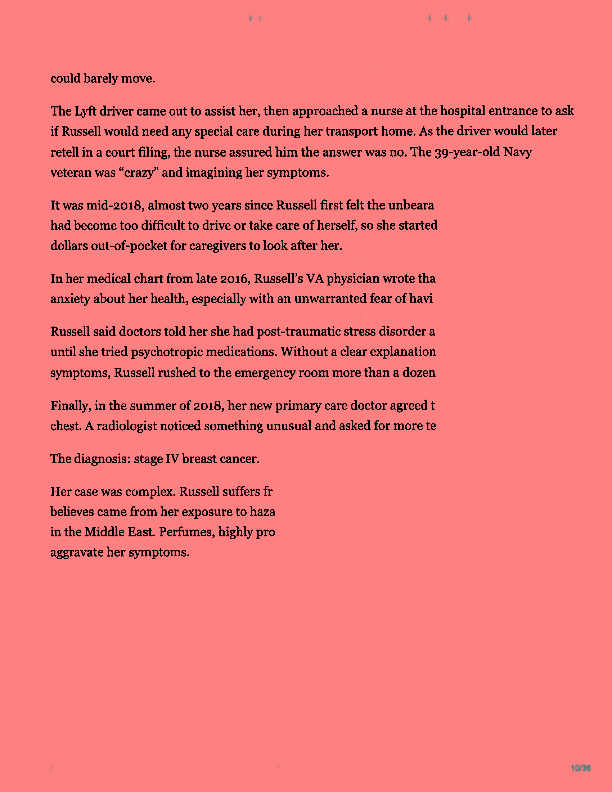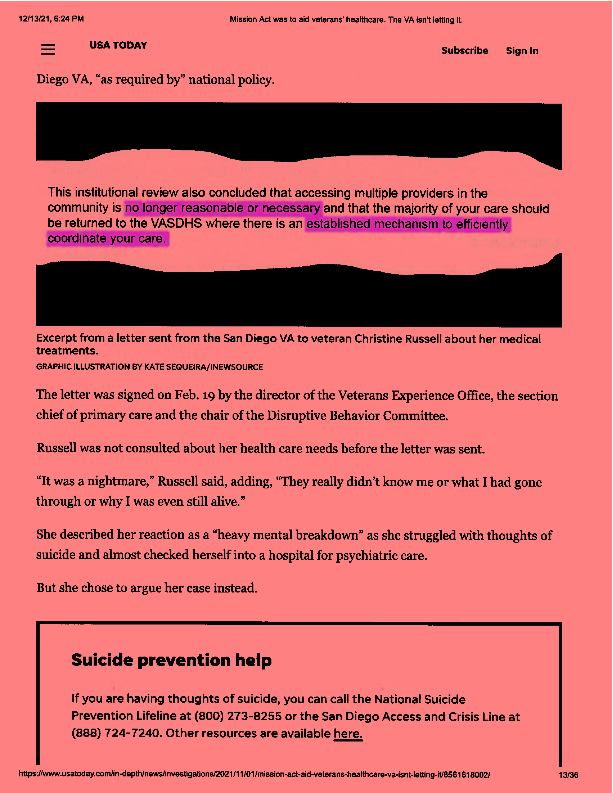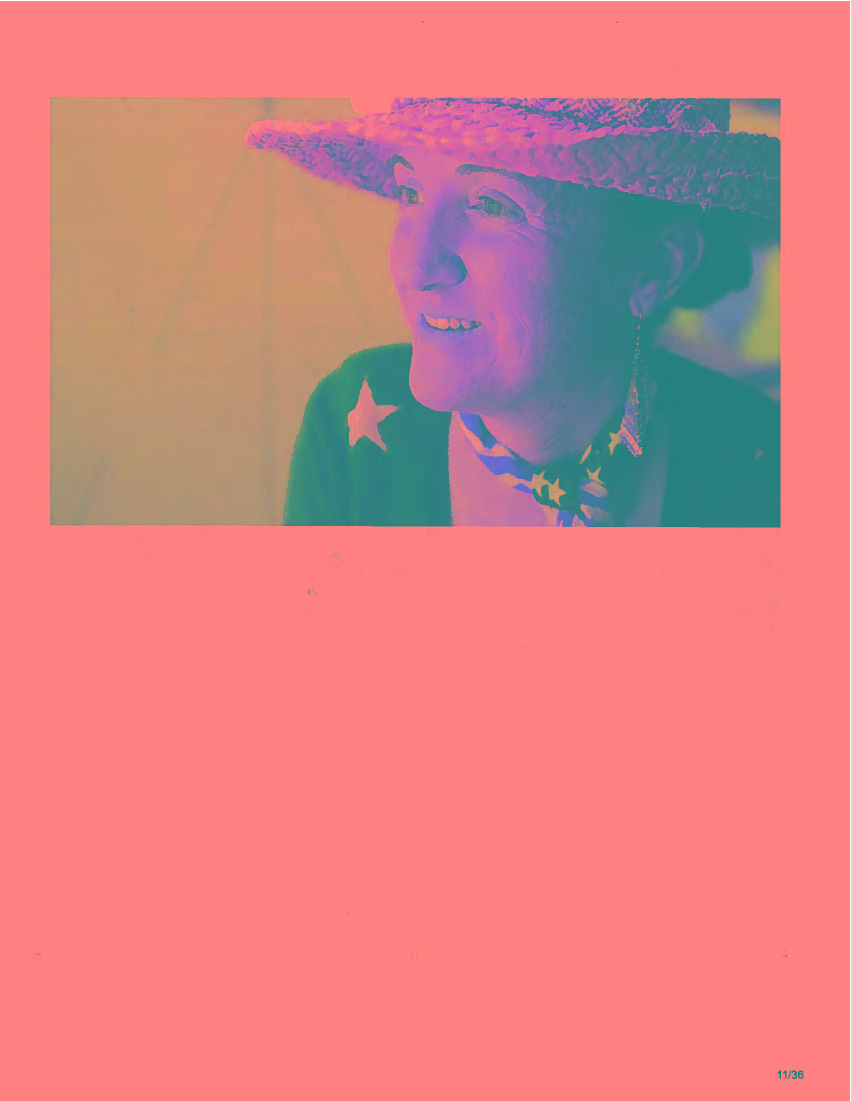 [gview file="https://bartpbillings.com/wp-content/uploads/2021/12/USA-Today-story-about-Christines-struggle.pdf"]
---
Bart P. Billings,Ph.D.
COL SCNG-SC, Military Medical Directorate (Ret.)
Licensed Clinical Psychologist CA PSY 7656
Licensed Marriage, Family Therapist CA LMFT 4888
-Director/Founder International Military & Civilian Combat Stress Conference
-Initial Enlisted Ranks and Retired as Medical Service Corps Officer with a total of 34 years in US Army
-Recipient of the 2014 Human Rights Award from Citizens Commission on Human Rights International & The University Of Scranton "Frank O'Hara Award" in 2016.
bartbillings@yahoo.com
http://bartpbillings.com ("Invisible Scars" & "Unhealthy Eating …" Books Website)
www.combatstress.bizhosting.com (Combat Stress Conference website)
—Cell 760 500-5040
—Ph 760 438-2788
AVAILABLE NOW
"INVISIBLE SCARS" is available at Amazon.com: http://a.co/1WKPjsc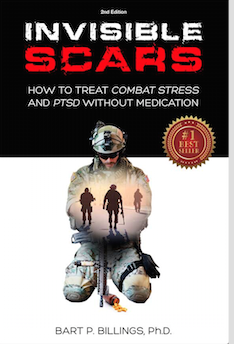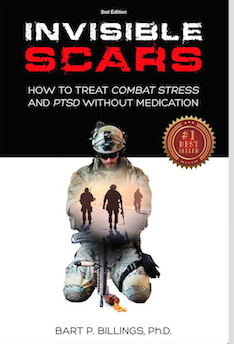 Some Amazon 5 Star Recent Customer Reviews
– This Book Saved My Life.
– I am sure that this book will save lives.
– 25 pages into Invisible Scars, I knew that it was the second most important book I would ever read…after the Bible. — David T. Ossian, Asst. National Vice Commandant , Marine Corps League
– This book is life changing…everyone needs to read ….
---
MOST CURRENT NEW BOOK
"HEALTHY EATING" is available at Amazon.com: http://a.co/4wlhtsa