Ask The Psychologist Issue #31: The New Leprosy In Our Society As Seen Personally, First Hand
Posted by Bart Billings
Posted on October 22, 2021
Comments Off

on Ask The Psychologist Issue #31: The New Leprosy In Our Society As Seen Personally, First Hand
In Biblical times, people suffering from the skin disease of leprosy were treated as outcasts. … They were forbidden to have any contact with people who did not have the disease and they had to ring a bell and shout "unclean" if anyone approached them. Leprosy symbolizes the defilement of sin, which results in separation from God and the community.
 Does the above description of Leprosy (Hansen's Disease) remind you of how some human beings are being treated in the United States and elsewhere at present. You would say this cant happen in the "Land Of The Free And The Home Of The Brave". I have been in the Health Profession for over 50 years, spending time in the Army as a Commanding Officer Of A General Hospital Unit and also working at a UC Teaching Hospital, being Chief Of Professional Services and Assistant Director of a total hospital department.
 I have almost always sensed an unconditional concern by the medical staff for all their patients. The caring and concern at times overshadowed the general policies of the institutions. I recall doctors stating that they needed more time with their patients and were not going to be robots, spending rigid time limits imposed by non-medical bookkeepers.
 But in all my years I never observed what I personally saw last Monday first hand. I pray that this is a local incident, but based on what I am being told over the past several months, it is not.
 Being a retired military officer, I have volunteered to be an advocate for some veterans. I recently worked on getting a Vet released from a VA Psychiatry unit, where he did not belong and was being scheduled to be held for 6 months on psychiatric medications. He was released on my recommendations within days to a local community program.
 But as bad as this situation was, it is pale in comparison to a Vet, who has cancer (Which the VA misdiagnosed for two years), because of this Vet's insistence for a more thorough evaluation — stage 4 cancer was found. This Vet recently developed Covid symptoms, which resulted in her having to go to our local hospital emergency room. The Vet called me and told me a horror story that was hard for me to believe. She stated she was treated like someone with leprosy. She indicated she was made to wait outside for hours, in the cold, with no one actually seeing her or showing a sense of caring. She was a Covid patient, whether she had the vaccination or not. She eventually left to go home and care for herself. This is our society's New Form Of Leprosy. Treating patients as unclean and with no dignity.
 Being in the medical profession as long as I have been in it, I found it hard to believe totally this Vet's story of the Emergency Room.
 That came to an end for me when a member of my family had an adverse reaction to a Monoclonal Antibody Infusion for Covid. We went to the same emergency room, where my family member was immediately placed in an outside area, with only canopies above. She was allowed to violently vomit and have such pains she was fearful for her life. They drew blood outside and I was able to talk the lab tech into giving her some meds for her severe pain. The Lab Tech said that he was not supposed to give her any meds until the ER Doctor sees her but that never occurred for 2 hours. There was not even a professional triage performed. Eventually, I took her home and got the needed meds at a local pharmacy.
 I was appalled by what I saw at this emergency room, with the lack of respect and caring for their Covid patients. If this behavior ever occurred, when I was a Military Hospital CO, I would have brought up the ER medical staff on court marshal offenses. The problem is made worse when I have been told this inappropriate patient treatment is occurring in other ER's. There are good and bad ER's, so always call ahead and make sure they have inside facilities for all patients. There are ER's that have inside facilities and they should be a first choice. If a hospital really cares about their patients total health care, temporary rooms are easy to setup. In the Army, we could set up a double wall field hospital in one day, including surgery suites. Don't tolerate disrespect in your medical care. This is the USA and our soldiers fought and died for our rights to be respected.
The below is a very important Video Addendum that may save your life, if ever placed in a hospital. It is from real people who explain how they lost family members and what you need to know if you are ever in a similar situation.  It is very worthwhile, even if it is a little long . I was honored to be welcomed as " someone with your experience and expertise joining us on the Truth for Health Foundation Advisory Council. Your years of helping people with PTSD and other stress-induced health consequences would be an invaluable addition to our team of physicians, scientists, nurses, lawyers, patient advocates, clergy, etc. Please see our website www.TruthForHealth.org for a description of all our programs and services, as well as the About US tab on the home page that lists members of our Executive team and Advisory Council."
Dr B
LifeSiteNews readers won't want to miss today's online conference exposing medical abuse and neglect of COVID-19 patients, which features Attorney and Patient Advocate Ali Shultz exposing Arizona hospital CEOs' collusion harming patients.
"Caught on Tape" will be an explosive press conference event presenting shocking recordings of hospital executives discussing coordinated plans to restrict fluids and nutrition for hospitalized COVID patients, suppression of all visits for COVID patients while in hospital, denial of vital medicines, and more. Convicted felons in America are given more rights than COVID patients in America's hospitals.
 WATCH NOW!
LifeSiteNews
4 Family Life Lane
Front Royal, VA 22630
+1 (888) 678-6008
Copyright © 2021 LifeSiteNews.com, All rights reserved.
---
Bart P. Billings,Ph.D.
COL SCNG-SC, Military Medical Directorate (Ret.)
Licensed Clinical Psychologist CA PSY 7656
Licensed Marriage, Family Therapist CA LMFT 4888
-Director/Founder International Military & Civilian Combat Stress Conference
-Initial Enlisted Ranks and Retired as Medical Service Corps Officer with a total of 34 years in US Army
-Recipient of the 2014 Human Rights Award from Citizens Commission on Human Rights International & The University Of Scranton "Frank O'Hara Award" in 2016.
bartbillings@yahoo.com
http://bartpbillings.com ("Invisible Scars" & "Unhealthy Eating …" Books Website)
www.combatstress.bizhosting.com (Combat Stress Conference website)
—Cell 760 500-5040
—Ph  760 438-2788
AVAILABLE NOW
"INVISIBLE SCARS" is available at Amazon.com: http://a.co/1WKPjsc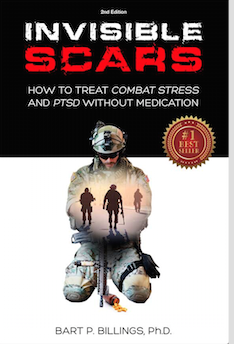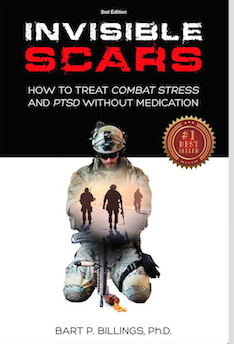 Some Amazon 5 Star Recent Customer Reviews
– This Book Saved My Life.
– I am sure that this book will save lives.
– 25 pages into Invisible Scars, I knew that it was the second most important book I would ever read…after the Bible. — David T. Ossian, Asst. National Vice Commandant , Marine Corps League
– This book is life changing…everyone needs to read …. 
---
MOST CURRENT NEW BOOK
"HEALTHY EATING" is available at Amazon.com: http://a.co/4wlhtsa