Ask The Psychologist Issue #17: What is a Litmus Test to identify evil in people?
Posted by Bart Billings
Posted on October 6, 2020
Comments Off

on Ask The Psychologist Issue #17: What is a Litmus Test to identify evil in people?
I have been asked many times by people, how do you identify evil in people and people who are basically evil.
An article today, by a media news and opinion personality Bill O'Reilly, gives us all an idea on how to identify evil in our thinking, as well as people who are basically evil in their behavior. We can use this current event in the news as a Litmus Test (a decisively indicative test), to help us identify evil thoughts in people, as well as people who may be down right evil most of the time.
I agree with the below article from Mr. O'Reilly, both as a Catholic and as a psychologist. This below Litmus Test will allow you to easily see the face of evil, based on how people currently express themselves regarding  someone becoming ill.
Nobody is Safe from Covid
By: Bill O'ReillyOctober 2, 2020
"We all live in dangerous times where a virus has devastated the entire world. The President and First Lady are vivid reminders that illness can strike us at any time and no power on earth can prevent that.
Most Americans understand the general health threat but not all. Most Americans are sympathetic to the Trumps and other people attacked by Covid and various diseases. But not all.
If you feel glad that Donald and Melania Trump are ill, then you have a sickness, too. And while most recover from Covid, the disease of enjoying the suffering of others is rarely defeated. That disease is called evil.
Stay safe.  Promote empathy and justice. Feel the pain of your fellow human beings. Never celebrate it".
Since Love/Belonging is one of a human beings higher psychological needs (Choice Theory Psychology principle), not caring for people is not consistent with this need being met. In order to meet this need in a healthy manner, caring about others is a necessary ingredient. Caring is sensed by others as a positive expression of Love/Belonging, where hate is readily experienced as evil and destructive to Love/Belonging. 
As I explained back in Issue #1 of Ask The Psychologist (www.bartpbillings.com), on the topic of 
Recripical Inhibition, w
hen a person hates, its impossible to love and care at the same time. The good news is that people choose behaviors, unless they have a genetic defect. When one realizes that hate is interfering with them meeting their needs for positive involvement in a healthy manner, they can choose to stop hating, and make a better choice to care. Caring about others actually feels better physically and psychologically than hating. It's simply a basic survival 
characteristic most healthy human beings possess.
---
Bart P. Billings,Ph.D.
COL SCNG-SC, Military Medical Directorate (Ret.)
Licensed Clinical Psychologist CA PSY 7656
Licensed Marriage, Family Therapist CA LMFT 4888
—Director/Founder International Military & Civilian Combat Stress Conference
—Initial Enlisted Ranks and Retired as Medical Service Corps Officer with a total of 34 years in US Army
—Recipient of the 2014 Human Rights Award from Citizens Commission on Human Rights International & The University Of Scranton "Frank O'Hara Award" in 2016.
bartbillings@yahoo.com
http://bartpbillings.com ("Invisible Scars" & "Unhealthy Eating …" Books Website)
www.combatstress.bizhosting.com (Combat Stress Conference website)
—Cell 760 500-5040
—Ph  760 438-2788
AVAILABLE NOW
"INVISIBLE SCARS" is available at Amazon.com: http://a.co/1WKPjsc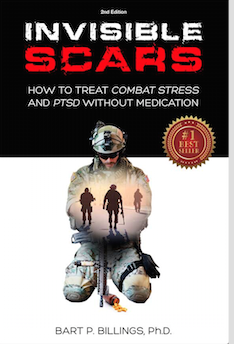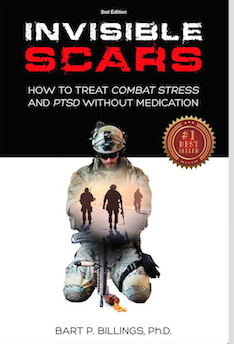 Some Amazon 5 Star Recent Customer Reviews
– This Book Saved My Life.
– I am sure that this book will save lives.
– 25 pages into Invisible Scars, I knew that it was the second most important book I would ever read…after the Bible. — David T. Ossian, Asst. National Vice Commandant , Marine Corps League
– This book is life changing…everyone needs to read …. 
---
MOST CURRENT NEW BOOK
"HEALTHY EATING" is available at Amazon.com: http://a.co/4wlhtsa