Ask the Psychologist Issue #4: Hydroxychloroquine, Azithromycin (Z-Pak), and Zinc Sulfate
Posted by Bart Billings
Posted on September 18, 2020
Comments Off

on Ask the Psychologist Issue #4: Hydroxychloroquine, Azithromycin (Z-Pak), and Zinc Sulfate
Now that the President explained that his physician approved him taking zink and hydroxychloroquine to prevent him from contracting COVID-19, I thought the below information from a few noted physicians may be informative as to why his decision was made. It's a crime medicine is being taken over by petty politics, which may prevent someone from getting a treatment that can make a difference if they live or die. 
As a psychologist, I have always tried to help people get information, so they can make educated choices. Below is new information that may help people make educated decisions in the event that they are put in a situation where they will need to demonstrate reasonable judgement.
Dr. Oz: Complications from Hydroxychloroquine Were 'Trivial Like Rashes'
By Melanie Arter | April 8, 2020 | 5:41pm EDT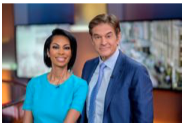 Host Harris Faulkner with Dr. Oz as he visits "Outnumbered Overtime" at Fox News Channel Studios on March 09, 2020, in New York City. (Photo by Roy Rochlin/Getty Images)
(CNSNews.com) – Dr. Mehmet Oz, (Practicing cardiologist) host of the "Dr. Oz" show, told Fox News that the French infectious disease specialist he spoke to said the complications from the use of the drugs hydroxychloroquine and azithromycin were "trivial like rashes."
Dr. Daniel Wallace, a board-certified rheumatologist practicing at Cedars-Sinai medical center in Los Angeles, wrote that "hydroxychloroquine is a very safe drug" and has been given to "tens of millions" of people around the world since it was approved 65 years ago "and as mono-therapy has not been associated with any deaths in the recommended dose."Wallace wrote, "In 42 years of practice, no patient of mine has ever been hospitalized for a complication.

"He's not alone. A lot of his colleagues agree with him," Oz said. "When I spoke to [Dr.] Didier Raoult, the famous infectious disease specialist from France. He's now acquired 1,000 patients on the combination of the hydroxychloroquine and azithromycin. 
"He also says the complications have been trivial, things like rashes, any minor issues, but this man was born in Africa and knows this drug very well because of the malaria he has faced in his practice and he says there's been a billion doses prescribed," he said.
"It's not what they worry about, but Dr. Wallace said what was interesting and might catch the attention of the viewer is that in their protocols, they don't ever mention complications from hydroxychloroquine because they are so uncommon," Oz said.
"That stated, a doctor has to be involved. They should be checking out the possible issues that may come up, but the issues I keep hearing are heart problems, blindness. Blindness by the way, the eye issues occurred at  0% in five years, 1% of people at 10 years of chronic use. We're talking about a week or maybe 10 days of use maximum, so those issues aren't real. I don't want to create more problems for people when we have enough already," he added.
Oz said he wants to hear from anyone diagnosed with lupus or rheumatoid arthritis who take hydroxychloriquine to treat it and who have been diagnosed with COVID-19. He asked his viewers to share their story with his show.
Oz said he wanted to know whether any of Wallace's lupus patients on hydroxychloroquine got COVID-19.
"My interest was to find out could it actually prevent people from getting sick because normally, you'd think lupus patients are immunodepressed. They'd be more likely to get sick from COVID-19 but he has no patients in his practice, and he is part of this experience we are looking at," Oz said.
"We've now run 9 million insurance records through, identified 14,000 people who are like these patients. They have lupus. They're taking hydroxychloroquine. Zero of those patients so far have COVID-19. I don't want to over interpret that. This is a tiny little biopsy of America, but working together with CMS, and we've gotten a lot of support from their leadership. Seema Verma's fantastic. "The Blue Cross Blue Shield Association, they've gotten together," he said.
"Our partners at Share Care are writing the numbers, and I want to get to 100 million Americans and confirm what the rheumatologists are observing, which is it doesn't seem right, but their patients aren't getting COVID-19, and maybe there's something there that's a clue to us, because if that's true, we might consider using this at the trials with doctors and nurses and people who are at risk of getting this infection," Oz said.
On May 4, 2020, at 9:28 PM, Dr.Bart Billings <bartbillings@yahoo.com> wrote:
This info goes with the previous email on the subject I have sent you..
Dr. Stephen Smith on effectiveness of hydroxychloroquine: 'I think this is the beginning of the end of the pandemic'
Dr. Stephen Smith, founder of The Smith Center for Infectious Diseases and Urban Health, said  that he is optimistic about the use of antimalarial medications and antibiotics to treat COVID-19 patients, calling it "a game-changer."
"I think this is the beginning of the end of the pandemic. I'm very serious," Smith, who is an infectious disease specialist.
Currently there is no known cure for the coronavirus pandemic ravaging the globe.
Smith, who is treating 72 COVID-19 patients, said that he has been treating "everybody with hydroxychloroquine and azithromycin [an antibiotic]. We've been doing so for a while." 
He pointed out that not a single COVID-19 patient of his that has been on the hydroxychloroquine and azithromycin regimen for five days or more has had to be intubated.
"The chance of that occurring by chance, according to my sons Leon and Hunter who did some stats for me, are .000-something," he said, adding that "it's ridiculously low."
Smith explained that "intubation means actually putting a tube down into your trachea and then you're placed on the ventilator for respiratory support." . 
A study published earlier this month by French researchers suggested that COVID-19 patients could be treated with antimalarial medication and antibiotics in the battle against the novel coronavirus. 
Smith noted on Wednesday that he thinks his data supports the French study.
"Now you actually have an intra-cohort comparison saying that this regimen works,
ANOTHER FINDING BY DR MEHMED OZ :
Speaking on "Fox & Friends" on Thursday, Dr. Mehmet Oz brought up an "important randomized study still unpublished from Wuhan, China."
He said that his team spoke to the medical leadership in China and vetted the study.
"We think it's real," Dr. Oz said on Thursday. 
He then went on to explain what the study, which looked at 62 patients, showed. He noted that half of the patients got the traditional therapy being offered in China and the other half got the traditional therapy plus hydroxychloroquine. 
"In terms of symptoms, their temperatures, their fevers broke instead of three days, which is the norm over there on this treatment, they got two days," Dr. Oz said. 
He added that "in terms of coughing, the other big symptom you have, again it takes a little over three days oftentimes for that to go away and that was dropped at two days."
Dr. Oz then pointed out the part that "really caught my attention." 
"They did CT scans of the chest in all the patients. All the patients had pneumonia when they started. Over the course of the five-day treatment with the hydroxychloroquine and 55 percent of the control population where they just got the normal therapy there was resolve and resolution of the pneumonia in 81 percent of the patients on the hydroxychloroquine, there was improvement in the lung's images," he pointed out. 
Dr. Oz noted that these results are "statistically significant."
He went on to say that even though the study only monitored a small group of people, "they still got the measures that we like to see."
Dr. Oz acknowledged that a bigger clinical trial is still needed, adding that the Chinese study "is an early effort to try to show a lot of people whether this is the right way or the wrong way to go."
"I should point out in the 31 patients that were the control group, four patients had bad outcomes, they got significantly worse. None of the patients in the hydroxychloroquine group got significantly worse," he said. 
"So the Chinese are using this as part of their routine treatment. They have a national protocol for measuring COVID-19. I think we ought to consider something like that in this country, but at least physicians and patients should be able to discuss this a bit more comfortably until we have the bigger randomized data from studies done in this country."
A new study in the United States, which will be conducted by the University of Washington in conjunction with New York University, looks to enroll 2,000 people who are "close contacts of persons with confirmed or pending COVID-19 diagnoses," according to a statement announcing the study.
New York State recently said it would start coronavirus drug trials in an attempt to control the pandemic's impact on the state, according to Gov. Andrew Cuomo, who announced the state had acquired 70,000 doses of hydroxychloroquine, 10,000 doses of the antibiotic Zithromax and 750,000 doses of chloroquine, another antimalarial drug.
A New York Times article published on Wednesday also referenced the Chinese study Dr. Oz had referred to .
The article, which cited doctors in China, titled "Malaria Drug Helps Virus Patients Improve, in Small Study," highlighted the fact that hydroxychloroquine "helped to speed the recovery of a small number of patients who were mildly ill from the coronavirus." 
"Cough, fever and pneumonia went away faster, and the disease seemed less likely to turn severe in people who received hydroxychloroquine than in a comparison group not given the drug," the article said. "The authors of the report said that the medication was promising, but that more research was needed to clarify how it might work in treating coronavirus disease and to determine the best way to use it."
 Dr. Oz also noted another observation the Chinese made in their study, saying they noticed that people who were already taking hydroxychloroquine, like the people who suffer from the autoimmune disease lupus and are prescribed the drug for that condition, didn't contract COVID-19. 
"So we ought to think about looking at it for doctors and nurses and loved ones of people who get ill," 
PRIOR EMAIL I SENT:
As experts from the medical field are rushing against the clock to find a cure for COVID-19, one New York doctor claims to have successfully healed around 500 patients using a cocktail of hydroxychloroquine, azithromycin (Z-Pak), and zinc sulfate. The treatment plan of Dr. Vladimir Zelenko, a board-certified family practitioner, has caught the attention of physicians around the world as well as President Trump. One America's Caitlin Sinclair caught up with the New York doctor to discuss his success. 
See video below.
https://www.realclearpolitics.com/video/2020/04/10/one_america_news_ny_doctor_finds_success_treating_covid-19_patients_with_hydroxychloroquine_cocktail.html
Stay tuned for this future report to hopefully confirm Dr Zelenko's and other physician findings:
Thursday, April 9, 2020
NIH clinical trial of hydroxychloroquine, a potential therapy for COVID-19, begins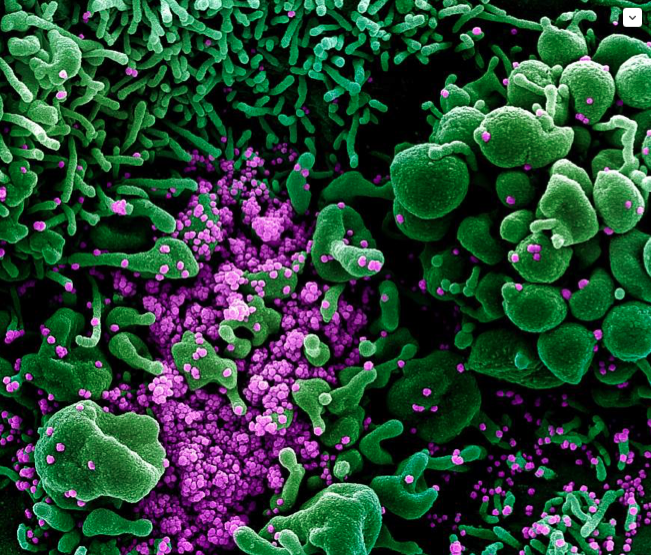 Colorized scanning electron micrograph of an apoptotic cell (green) heavily infected with SARS-COV-2 virus particles (purple), isolated from a patient sample. Image captured and color-enhanced at the NIAID Integrated Research Facility (IRF) in Fort Detrick, Maryland.NIAID
A clinical trial to evaluate the safety and effectiveness of hydroxychloroquine for the treatment of adults hospitalized with coronavirus disease 2019 (COVID-19) has begun, with the first participants now enrolled in Tennessee.
The Outcomes Related to COVID-19 treated with hydroxychloroquine among In-patients with symptomatic Disease study, or ORCHID Study, is being conducted by the Prevention and Early Treatment of Acute Lung Injury (PETAL) Clinical Trials Network of the National Heart, Lung, and Blood Institute (NHLBI), part of the National Institutes of Health.
The first participants have enrolled in the trial at Vanderbilt University Medical Center, Nashville, one of dozens of centers in the PETAL Network. The blinded, placebo-controlled randomized clinical trial aims to enroll more than 500 adults who are currently hospitalized with COVID-19 or in an emergency department with anticipated hospitalization. All participants in the study will continue to receive clinical care as indicated for their condition.  Those randomized to the experimental intervention will also receive hydroxychloroquine.
"Effective therapies for COVID-19 are urgently needed," said James P. Kiley, director, Division of Lung Diseases, NHLBI.  "Hydroxychloroquine has showed promise in a lab setting against SARS-CoV-2, the virus that causes COVID-19 and preliminary reports suggest potential efficacy in small studies with patients. However, we really need clinical trial data to determine whether hydroxychloroquine is effective and safe in treating COVID-19."
While COVID-19 usually presents as an acute respiratory infectious illness, it can damage multiple organ systems, including heart, lung, and blood. Most adults with COVID-19 experience fever, cough, and fatigue and then recover within one to three weeks. However, some develop severe illness, typically manifesting as pneumonia and respiratory failure, with continued progression to acute respiratory distress syndrome and death. Currently, no therapies have been demonstrated to prevent the progression of COVID-19 to severe illness, but several medicines available in the United States have been proposed as potential therapies.
Hydroxychloroquine is used to treat malaria and rheumatoid conditions such as arthritis.  In various studies, the drug has demonstrated antiviral activity, an ability to modify the activity of the immune system, and has an established safety profile at appropriate doses, leading to the hypothesis that it may also be useful in the treatment of COVID-19. The drug is not without risks as even short term use can cause cardiac arrythmias, seizures, dermatological reactions, and hypoglycemia.
"Many U.S. hospitals are currently using hydroxychloroquine as first-line therapy for hospitalized patients with COVID-19 despite extremely limited clinical data supporting its effectiveness," said Wesley Self, M.D., M.P.H., emergency medicine physician at Vanderbilt University Medical Center and PETAL Clinical Trials Network investigator leading the ORCHID trial.  "Thus, data on hydroxychloroquine for the treatment of COVID-19 are urgently needed to inform clinical practice."
COVID-19 cases were first identified in December 2019 in Wuhan, Hubei Province, China. As of April 8, 2020, the World Health Organization (WHO) (link is external) has reported more than 1.3 million cases of COVID-19 and more than 79,000 deaths worldwide, and the Centers for Disease Control and Prevention (link is external) has reported more than 395,000 confirmed COVID-19 cases and 12,700 deaths in the United States.  
ORCHID participants will be randomly assigned to receive hydroxychloroquine 400 mg twice daily for two doses (day one), then 200 mg twice daily for the subsequent eight doses (days two to five) or a placebo twice daily for five days.
NIH also recently launched a trial to study Remdesivir as a possible treatment for COVID-19. That clinical trial is sponsored by the National Institute of Allergy and Infectious Diseases (NIAID) [NCT04280705]. These two trials will provide data on the effectiveness and safety of each agent versus placebo in the urgent race to find effective therapies for treating COVID-19.
For more information about the study, visit ClinicalTrials.gov and search identifier NCT04332991.
About the National Heart, Lung, and Blood Institute (NHLBI): NHLBI is the global leader in conducting and supporting research in heart, lung, and blood diseases and sleep disorders that advances scientific knowledge, improves public health, and saves lives. For more information, visit www.nhlbi.nih.gov.
About the National Institutes of Health (NIH): NIH, the nation's medical research agency, includes 27 Institutes and Centers and is a component of the U.S. Department of Health and Human Services. NIH is the primary federal agency conducting and supporting basic, clinical, and translational medical research, and is investigating the causes, treatments, and cures for both common and rare diseases. For more information about NIH and its programs, visit www.nih.gov.
Negative Study of "Trump Miracle Drug" Actually Shows It Works
By Peter R. Breggin, MD and Ginger Ross Breggin
Today's HuffPost happily proclaimed that once more President Trump had been proven by science to be wrong, this time about his support for the use of hydroxychloroquine for the treatment the coronavirus that is afflicting the world. Here is the HuffPost Morning Mail as it appeared in my inbox this morning: 
HuffPost – TOP STORIES – Wednesday, April 22
NO BENEFIT AND MORE DEATHS FROM TRUMP MIRACLE DRUG 
A malaria drug repeatedly touted by President Donald Trump for treating the coronavirus showed no benefit in a large analysis of its use in U.S. veterans hospitals. There were more deaths among those given hydroxychloroquine versus standard care, researchers reported. With 368 patients, the study is the largest look so far of hydroxychloroquine with or without the antibiotic azithromycin. [AP]
The HuffPost mailing and AP article they published are a clear demonstration that some progressives would rather see patients die than acknowledge that the President might be right about something. But more serious issues about the misuse of science are involved.
I have been evaluating drug studies in depth since the early 1990s when a federal judge in Indiana confirmed my appointment as the single medical expert to develop the scientific basis for all the more than 150 combined product liability suits against Eli Lilly & Co for its allegedly fraudulent testing and development of Prozac. The suits claimed that Prozac was causing violence, suicide and mayhem. As we demonstrated in our book, Talking Back to Prozac, the research used by Eli Lilly to get FDA approval was junk science; but it was pure gold compared to the research that claims to debunk Trump's support of hydroxychloroquine for treatment of COVID–19.
The study can be found here, along with often cogent criticism of it at the end. 
My reanalysis of the skewed data used for the study raises a strong possibility that hydroxychloroquine by itself and in combination with azithromycin (the Z-pack) was saving lives. Yes, the drugs could have been saving lives in this study and are probably continuing to do so around the world.
How is it possible that a study which claims to show that a drug which supposedly caused an excessive death rate might instead have proven that the drug was saving lives? Because the patients getting the treatment with hydroxychloroquine were much more ill—much nearer to death and much more likely to die—than the patients who did not receive the drug.
Federal government approval for hydroxychloroquine was only "authorized" for "emergency use." In line with this, President Trump has repeatedly said, in effect, "If people are going to die anyway, why not try it?" That is also what the FDA essentially approved it for—people in an "emergency" condition. Although the guideline does not define emergency use, it would certainly rule out using it routinely and probably not at all for patients who were not deathly ill.
The study itself recognizes this flaw far into their discussion (p. 12):
Baseline demographic and comorbidity characteristics were comparable across the three treatment groups. However, hydroxychloroquine, with or without azithromycin, was more likely to be prescribed to patients with more severe disease, as assessed by baseline ventilatory status and metabolic and hematologic parameters. Thus, as expected, increased mortality was observed in patients treated with hydroxychloroquine, both with and without azithromycin. (bold added, p. 12)
It was expected that more patients would die while taking the drugs because they were being given to much sicker patients! The authors claim to have found a statistical way to overcome this fatal flaw, but there is no way to do so. Control groups would be needed in which patients who had equally bad prognoses were divided into medication treatment and non-medication treatment groups.
The study had no control groups at all.
In addition, many patients were put on the medications after attempting to treat them without the drugs. Of course, the patients on medication had a higher mortality rate—many were patients who were already getting worse on the non-drug treatments. Furthermore, the patients doing badly on no-drug treatment do not show up as no-drug failures in the study.
Furthermore, there is strong evidence that the combination of hydroxychloroquine and azithromycin was saving lives. There was "no significant difference" in the death rates from any cause for the patients on the drug combination compared to the patients on no drugs (p. 11). In other words, although the patients taking the drug combination of hydroxychloroquine and azithromycin were probably the sickest of the sick, there was no significant increase in deaths among them compared to the much less sick patients who received no drug treatment. This suggests that the drug combination had a lifesaving impact.
My initial analysis indicates that this study probably contains significance evidence for a reduction in fatalities on the medications; but it would take a complete re-evaluation starting with the draw data to be sure.
Beyond what I have said here, this article has seemingly countless additional flaws; but there is no need to go any further that what I have observed.
When I went to the link for the article, I was startled to read the following declaration by the journal to which it had apparently been submitted:
This article is a preprint and has not been certified by peer review… It reports new medical research that has yet to be evaluated and so should not be used to guide clinical practice.
This article has not been peer reviewed and not officially published as yet. In fact, if there is an honest peer review, this article will be rejected for publication.
I want to conclude with an historical anecdote about Huff Post. I have nostalgia for the "newspaper" that was once called Huffington Post. Before it was created, founder Arianna Huffington invited me to join the new blogsite that she was creating and of course I happily agreed. Arianna and her conservative assistant, Andrew Breitbart, had been calling me and my wife Ginger on occasion for advice on Arianna's columns. I viewed Arianna as an independent thinker, and I was proud to be included as a founding blogger on what would become her newspaper.
I did write several blogs for Huffington Post, but as the blogsite morphed into a progressive political screed, I found the increasing censorship intolerable. The editors did not like my criticism of psychiatric drugs, psychiatry, or drug companies. A few times, Arianna intervened on behalf of my freedom of speech; but she eventually sold her newspaper. The editors then invited a state Commissioner of Mental Health, an establishment enforcer, to supervise my blogs and I chose not to try to write for them any longer.
We have now reached the point that science is literally being created to meet the needs of progressive media and politics. That is very dangerous and could lead to science being viewed with the same disrespect and even disdain as the progressive media is increasingly viewed.
---
Bart P. Billings,Ph.D.
COL SCNG-SC, Military Medical Directorate (Ret.)
Licensed Clinical Psychologist CA PSY 7656
Licensed Marriage, Family Therapist CA LMFT 4888
—Director/Founder International Military & Civilian Combat Stress Conference
—Initial Enlisted Ranks and Retired as Medical Service Corps Officer with a total of 34 years in US Army
—Recipient of the 2014 Human Rights Award from Citizens Commission on Human Rights International & The University Of Scranton "Frank O'Hara Award" in 2016.
bartbillings@yahoo.com
http://bartpbillings.com ("Invisible Scars" & "Unhealthy Eating …" Books Website)
www.combatstress.bizhosting.com (Combat Stress Conference website)
—Cell 760 500-5040
—Ph  760 438-2788
AVAILABLE NOW
"INVISIBLE SCARS" is available at Amazon.com: http://a.co/1WKPjsc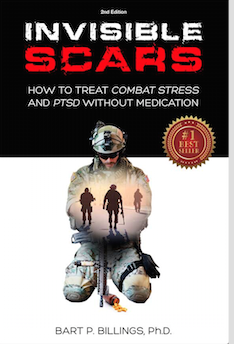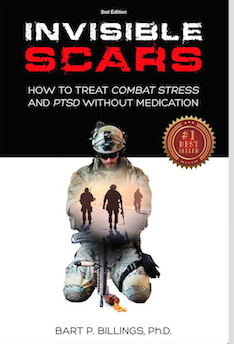 Some Amazon 5 Star Recent Customer Reviews
– This Book Saved My Life.
– I am sure that this book will save lives.
– 25 pages into Invisible Scars, I knew that it was the second most important book I would ever read…after the Bible. — David T. Ossian, Asst. National Vice Commandant , Marine Corps League
– This book is life changing…everyone needs to read …. 
---
MOST CURRENT NEW BOOK
"HEALTHY EATING" is available at Amazon.com: http://a.co/4wlhtsa