Ask the Psychologist Issue #13: Why are so Many Media Outlets Providing Similar Biased Information?
Posted by Bart Billings
Posted on September 18, 2020
Comments Off

on Ask the Psychologist Issue #13: Why are so Many Media Outlets Providing Similar Biased Information?
I have often been asked by many people, Why are so many media outlets providing similar biased information?
In Ask The Psychologist Issue 12, I was asked the question, How Do I know What To Believe in the Media? 
The below would appear to answer most of that question (Why are so many media outlets providing similar biased information?) and now Issue 13 is a natural, to a follow-up on issue 12. Most all the people below have Values not generally consistent with the general population in the US. I  will explain in my next book, "How The Media Creates Victims In Our Society," the Values Clarification Surveys that were conducted in the 1970s, showing that people in the media's values, at that time, were drastically different from the general population at that time. The summary of those values clarification surveys stated that, although the media had very different values than the general population in the US, they felt a duty to impose their values on the rest of society through their profession. 40 + years later, we can see that they are achieving their stated goals through inner-relationships with people in power.
Some of the relationships of the people below, shows how relationships with each other, are consistent with how they have accomplished meeting their inherent values, which generally are contrary, not only to most of America, but also contrary to Natural Laws For Human Existence.
Over the past 25 to 30 years, it appears the news has been spoon fed to the masses, based on the values of a select few. 
It all becomes a little clearer now.
*YES, the Governor of Michigan used to work for George Soros

* YES, CALIF GOV. GAVIN NEWSOME IS NANCY PELOSI'S NEPHEW.
* YES, ADAM SHIFF'S SISTER IS MARRIED TO GEORGE SOROS' SON.
* YES, JOHN KERRY'S DAUGHTER IS MARRIED TO A MULLAH'S SON in IRAN
* YES, Hillary's daughter Chelsea is married to George Soros' nephew.
* YES, ABC News executive producer IAN CAMERON is married to SUSAN RICE, Obama's former National Security Adviser.
* YES, CBS President DAVID RHODES is the brother of BEN RHODES, Obama's Deputy National Security Adviser for Strategic Communications.
* YES, ABC News correspondent CLAIRE SHIPMAN is married to JAY CARNEY, former Obama White House Press Secretary
* YES, ABC News and Univision reporter MATTHEW JAFFE is married to KATIE HOGAN, Obama's former Deputy Press Secretary .
* YES, ABC President BEN SHERWOOD is the brother of Elizabeth Sherwood, Obama's former Special Adviser.
* YES, CNN President VIRGINIA MOSELEY is married to TOM NIDES, former Hillary Clinton's Deputy Secretary
THIS IS WHAT YOU CALL A "STACKED DECK."
IF YOU HAD A HUNCH THE NEWS SYSTEM WAS SOMEWHAT RIGGED AND YOU COULDN'T PUT YOUR FINGER ON IT, THIS MIGHT HELP YOU SOLVE THE PUZZLE. This is "Huge" and is a 'partial' list since the same incestuous relationship holds true for NBC/MSNBC and most media outlets. 

It would appear that fake News is generated by this incestuous relationship.
Funny, isn't it that, that many people THINK THERE MIGHT BE A LITTLE BIAS IN THE NEWS?
ISSUE 12: ASK THE PSYCHOLOGIST – A Free & HONEST Press In A Democracy
– There is a question on a Standardized Intelligent Test, which I have given years ago when I was seeing patients. It asked the question about the importance of a free press in a democracy. The answer expected, which would be correct is, to basically – keep the government honest-. But what has recently been occurring is this past question could not be answered the same way today and be correct. The reason is that the question would have to be changed to: why is a free and HONEST press important in a democracy? The fact remains that there is no one keeping a free press honest in our current democracy. So if the checks and balances of a press are nonexistent, what eventually happens to the government is it becomes dishonest, since the people in the democracy don't know what is true, in order to cast a knowledgeable vote. This is the reason there needs to be checks and balances that monitors a free press to insure its honesty and its truthfulness, so fake news is not tolerated. 
 This is why there needs to be Rules and Guidelines governing the media itself, more or less a MEDIA CONSTITUTION, with laws and natural consequences for dishonest behavior that is more than a retraction.
By developing a licensing board, like we have in a free medicinal and psychological community. Professional media people should have requirements like honesty, due diligence, reporting criteria, etc., that should all be required when writing a story. These standards can be monitored and reported on by both the public and other licensed media professionals, to insure a reporter or news organization doesnot violates professional standards. If they violate reporting criteria and guidelines, their credentials can be temporarily removed and they would receive supervision or else seek other employment, depending on the boards mandates. Obviously, multiple violations will lead to more stringent consequence.
Can one imagine a physician making a life threatening error due to incompetence and just asked to make a retraction stating they are sorry? In many ways, reporters can drastically effect a person/persons lives by falsely reporting an occurrence and getting away with it by simply writing a retraction, where in many cases is not even seen by the public. Its time a bright light is shined on the current corruption that is occurring in our press, that goes beyond filing a civil suit, which puts the burden back on the victim the media created. 
---
Bart P. Billings,Ph.D.
COL SCNG-SC, Military Medical Directorate (Ret.)
Licensed Clinical Psychologist CA PSY 7656
Licensed Marriage, Family Therapist CA LMFT 4888
—Director/Founder International Military & Civilian Combat Stress Conference
—Initial Enlisted Ranks and Retired as Medical Service Corps Officer with a total of 34 years in US Army
—Recipient of the 2014 Human Rights Award from Citizens Commission on Human Rights International & The University Of Scranton "Frank O'Hara Award" in 2016.
bartbillings@yahoo.com
http://bartpbillings.com ("Invisible Scars" & "Unhealthy Eating …" Books Website)
www.combatstress.bizhosting.com (Combat Stress Conference website)
—Cell 760 500-5040
—Ph  760 438-2788
AVAILABLE NOW
"INVISIBLE SCARS" is available at Amazon.com: http://a.co/1WKPjsc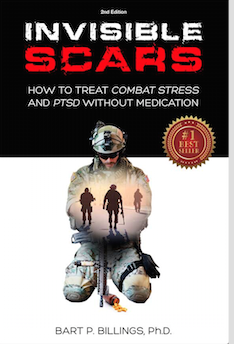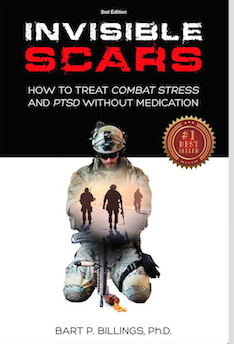 Some Amazon 5 Star Recent Customer Reviews
– This Book Saved My Life.
– I am sure that this book will save lives.
– 25 pages into Invisible Scars, I knew that it was the second most important book I would ever read…after the Bible. — David T. Ossian, Asst. National Vice Commandant , Marine Corps League
– This book is life changing…everyone needs to read …. 
---
MOST CURRENT NEW BOOK
"HEALTHY EATING" is available at Amazon.com: http://a.co/4wlhtsa