Ask The Psychologist Issue #37: You Choose Who To Believe: The book by Robert F. Kennedy, Jr who is the son of former Attorney General Robert F. Kennedy and more related material
Posted by Bart Billings
Posted on December 28, 2021
Comments Off

on Ask The Psychologist Issue #37: You Choose Who To Believe: The book by Robert F. Kennedy, Jr who is the son of former Attorney General Robert F. Kennedy and more related material
Robert F. Kennedy, Jr is the son of former Attorney General Robert F. Kennedy and as you would assume, is a life long Democrat like the current President. His book is contrary to current Democratic policy. So his book is not politically biased by his political affiliation, but an attempt to get at the truth. I suggest reading it if you want a solid understanding of what has been occurring. It should be factual since as an author, I know an author is open to being sued if they copyright published lies. BB
RFK, Jr.'s Bestselling Book Is 'Mind-Blowing and Jaw-Dropping'
On a recent episode of "The Jimmy Dore Show," Robert F. Kennedy, Jr. joined comedian and political commentator Jimmy Dore to discuss Kennedy's bestselling book "The Real Anthony Fauci," Fauci's sordid history as a public health official, and how Fauci and Gates effectively control all biomedical research.
On a recent episode of "The Jimmy Dore Show," Robert F. Kennedy, Jr. joined comedian and political commentator Jimmy Dore to discuss Kennedy's runaway bestseller, "The Real Anthony Fauci."
"This book is mind-blowing and jaw-dropping," said Dore. "You can open up to any page of this book, and I guarantee that it will make you angry at the state of our country and healthcare system."
Kennedy shared why he wrote "The Real Anthony Fauci":
"I wrote the book because so many Americans were looking at Tony Fauci as this kind of savior … the man on the white horse, or in the white lab coat, that would ride us out of this coronavirus crises but I knew from the beginning … that he does not do public health and has not done public health since the 1980's.
He went on to explain:
"Fauci transformed his agency into an incubator for pharmaceutical products. Fauci is the architect of agency capture not just at his National Institute of Allergy and Infectious Diseases or the National Institutes of Health but across all of Health and Human Services.
"They promote pharmaceutical products and the profiteering of the pharmaceutical industry, they promote their own personal power, and [Fauci] is the leader of that pack."
Instead of fulfilling his duty to the American people and finding the causes for chronic diseases and illnesses, Fauci oversaw the U.S. decline from one of the healthiest nations in the world to one of the most unhealthy, Kennedy said.
MORE RELATED INFORMATION
85% of COVID Deaths Could Have Been Prevented… So What Happened?
Of the people who died from COVID in the U.S., none received adequate and/or early enough treatment, Dr. Peter McCullough told podcast host Joe Rogan. If they had, at least 85% of them would have survived. McCullough, a cardiologist, internist, and epidemiologist based in Dallas, TX, is widely recognized as one of the foremost experts on the COVID-19 infection. He has 51 peer-reviewed publications on the disease, treats COVID patients as part of his practice, and has recovered from the infection himself. A former professor of medicine, he has addressed live audiences (here and here) and made  many media appearances to convey and explain the scientific data related to the novel coronavirus. 
Story at-a-glance:
Of the COVID-19 deaths in the U.S., none received adequate and/or early-enough treatment. At least 85% of COVID deaths were preventable.
There are three components to SARS-CoV-2 infection: viral replication, cytokine storm and blood clotting, therefore necessitating a multidrug approach, and treatment must begin early to be effective.
Research published in 2006 showed hydroxychloroquine reduced viral replication of SARS-CoV-1 (the original SARS virus). It also has well-established anti-inflammatory properties. These two properties help explain its usefulness against COVID-19.
There were clear intentional efforts to prevent use of hydroxychloroquine against COVID-19, likely in an effort to make the COVID jabs appear necessary.
You cannot get COVID-19 twice — those with natural immunity have robust, long-lasting immunity. The Pfizer COVID shot, meanwhile, has been shown to have undetectable effectiveness 201 days after the second dose and Moderna's effectiveness reaches zero around day 121.
Here's Why mRNA COVID Vaccines Might Be Messing With Our Innate Immunity
A pre-print study provides evidence to support what many prominent immunologists and vaccinologists have been saying for a long time — mRNA COVID vaccines are causing immune system dysregulation.
Jessica Rose, Ph.D., is a vaccine adverse event reporting system (VAERS) analyst and computational biologist who specializes in biomathematics and molecular research. Rose is a research fellow at the Institute for Pure and Applied Knowledge in Israel.
A brand new medRxiv pre-print study titled: "The BNT162b2 mRNA vaccine against SARS-CoV-2 reprograms both adaptive and innate immune responses" has graced our world.
This paper is so important and it provides evidence to support what many prominent immunologists and vaccinologists have been saying for a long time, including myself.
These COVID-19 mRNA injectable products are causing, yes, causing, immune system dysregulation — and not just in the context of the adaptive system, but in the context of the innate system.
Not only that, but these findings provide very good reasons as to why we are seeing resurgences of latent viral infections and other adverse events reported in VAERS (and other adverse event reporting systems) and perhaps more importantly, why we should under no circumstances inject this crap into our children.
Children are fine in the context of COVID-19 (for the 80 millionth time — this is well documented) and this is due to their extraordinary innate immune response systems.
34,337 Deaths 3,120,439 Injuries Following COVID Shots in European Database as UK Public Data Show 35 Deaths 213 Hospitalizations Among Booster Triple Vaccinated
December 22, 2021 6:17 pm
The European (EEA and non-EEA countries) database of suspected drug reaction reports is EudraVigilance, verified by the European Medicines Agency (EMA), and they are now reporting 32,649 fatalities, and 3,003,296 injuries following injections of four experimental COVID-19 shots. Meanwhile, The Exposé is reporting that public health data in the UK shows that the vast majority of deaths and hospitalizations in the UK are among those vaccinated, and now there are 35 deaths and 213 hospitalizations being reported among those who have received booster shots and are triple-vaccinated. We also report on a few examples of stories of victims who sacrificed themselves to the Vaccine Cult and have now had their lives terminated or ruined.
---
Bart P. Billings,Ph.D.
COL SCNG-SC, Military Medical Directorate (Ret.)
Licensed Clinical Psychologist CA PSY 7656
Licensed Marriage, Family Therapist CA LMFT 4888
-Director/Founder International Military & Civilian Combat Stress Conference
-Initial Enlisted Ranks and Retired as Medical Service Corps Officer with a total of 34 years in US Army
-Recipient of the 2014 Human Rights Award from Citizens Commission on Human Rights International & The University Of Scranton "Frank O'Hara Award" in 2016.
bartbillings@yahoo.com
http://bartpbillings.com ("Invisible Scars" & "Unhealthy Eating …" Books Website)
www.combatstress.bizhosting.com (Combat Stress Conference website)
—Cell 760 500-5040
—Ph  760 438-2788
AVAILABLE NOW
"INVISIBLE SCARS" is available at Amazon.com: http://a.co/1WKPjsc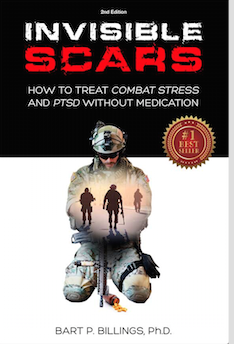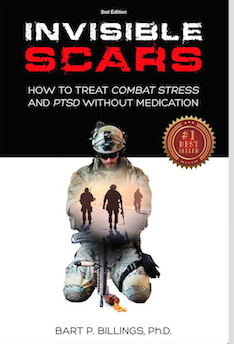 Some Amazon 5 Star Recent Customer Reviews
– This Book Saved My Life.
– I am sure that this book will save lives.
– 25 pages into Invisible Scars, I knew that it was the second most important book I would ever read…after the Bible. — David T. Ossian, Asst. National Vice Commandant , Marine Corps League
– This book is life changing…everyone needs to read …. 
---
MOST CURRENT NEW BOOK
"HEALTHY EATING" is available at Amazon.com: http://a.co/4wlhtsa