Ask The Psychologist Issue #28: Harvard Epidemiologist Martin Kulldorff on Vaccine Passports, the Delta Variant, and the COVID 'Public Health Fiasco'
Posted by Bart Billings
Posted on August 13, 2021
Comments Off

on Ask The Psychologist Issue #28: Harvard Epidemiologist Martin Kulldorff on Vaccine Passports, the Delta Variant, and the COVID 'Public Health Fiasco'
Generally, Ask The Psychologist focuses on general psychological issues but over the past year and a half, we have been getting inconsistent information about the world wide pandemic, which leads to psychological mistrust. I always told my interns that if you want to drive people crazy, be inconsistent, never letting a person what is coming next. Always something different, with no continuity. Its like coaching a sports team and never letting the players know what position they are going to play from day to day. The players will always be unprepared and apprehensive, from the stress of not knowing what to expect and will generally perform poorly. The mistrust now in our country originates in many areas, from the general media (TV, Social, Print, etc.), to include people in the medical field and from friends and relatives. The psychological stress that this has created has lead to an increase in suicides, failed businesses, friendships being lost and some local and national behaviors that actually threaten our freedoms and democracy. When we look back into history, we can see similarities that have cost lives and the loss of freedom in various countries. One of the most impressive talks that appears to make more sense to me than the volumes of misinformation I have heard over the course of this pandemic, was recently given by  MORNING BRIEF TOP NEWS
He explains in his interview a clear and concise picture of what has been occurring and what is to come. The reason I am sending this out is because, for the first time since I have been following what is occurring in the world, I find Dr Kulldorff to clearly explain, based on scientific facts, what everyone should know. Please watch the complete video and see if you feel as I do. it is well worth your time. He may not address all your concerns but does address many of them, that hopefully will help you understand what has happened over the past year and a half and what to expect in the future.
---
Bart P. Billings,Ph.D.
COL SCNG-SC, Military Medical Directorate (Ret.)
Licensed Clinical Psychologist CA PSY 7656
Licensed Marriage, Family Therapist CA LMFT 4888
—Director/Founder International Military & Civilian Combat Stress Conference
—Initial Enlisted Ranks and Retired as Medical Service Corps Officer with a total of 34 years in US Army
—Recipient of the 2014 Human Rights Award from Citizens Commission on Human Rights International & The University Of Scranton "Frank O'Hara Award" in 2016.
bartbillings@yahoo.com
http://bartpbillings.com ("Invisible Scars" & "Unhealthy Eating …" Books Website)
www.combatstress.bizhosting.com (Combat Stress Conference website)
—Cell 760 500-5040
—Ph  760 438-2788
AVAILABLE NOW
"INVISIBLE SCARS" is available at Amazon.com: http://a.co/1WKPjsc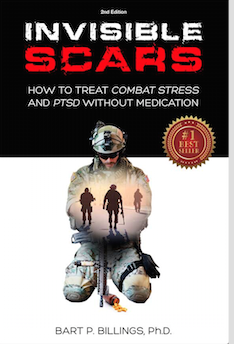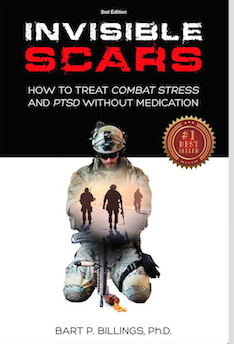 Some Amazon 5 Star Recent Customer Reviews
– This Book Saved My Life.
– I am sure that this book will save lives.
– 25 pages into Invisible Scars, I knew that it was the second most important book I would ever read…after the Bible. — David T. Ossian, Asst. National Vice Commandant , Marine Corps League
– This book is life changing…everyone needs to read …. 
---
MOST CURRENT NEW BOOK
"HEALTHY EATING" is available at Amazon.com: http://a.co/4wlhtsa