Ask The Psychologist Issue #20: Depression is Most Often a Normal Reaction
Posted by Bart Billings
Posted on December 15, 2020
Comments Off

on Ask The Psychologist Issue #20: Depression is Most Often a Normal Reaction
This year, with the COVID 19 Flu outbreak, many people have been experiencing depression and inquiring about the best way to deal with their depression. One of the things that I have been telling people is that depression is a normal way the body deals with any type of loss. When people experience a loss, whether it be from activities, friends, work, etc., a common way to deal with the psychological pain resulting from the loss is to depress. This can be seen as similar to when someone cuts themselves and scar tissue develops over the cut. The scar tissue is the bodies way to temporarily heal and deal with the chance of infection and is part of the healing process.
Throughout time, depression appears in most everyone's life, whether it be very brief or extended, depending on the actions the person employs. An example of what I am referring to can be seen below in the song, "Have Yourself A Merry Little Christmas," written in 1943 during World War II. Depression was a characteristic of the original words in the song, written for Judy Garland  to perform in the movie, Meet Me In St Louis in 1944.
As you can see from the * original words below, the early 40's, due to the war, was a time that may be seen as somewhat similar to the currant plague we are experiencing. This comparison shows that depression is common in people when they loose some of their abilities to meet their ** higher psychological needs, as they have done in the past.  To explain what I mean by a loss, I revert back to what I talked about in a previous issues of asked the psychologist (Issue 14), when discussing choice theory psychology and higher psychological needs.
If one looks at the needs that every human being strives to meet, in a healthy way every day of their life, you will see that the Covid 19 Flu has most drastically interfered with all four higher-level needs. The need for love / belonging is significantly interfered with, since people aren't able to gather with friends and family as they have in the past. The need for self-worth / power is also interfered with since many people who meet this need through employment and similar type activities, are unable to engage in these activities as they did in the past. The need for freedom is immensely interfered with since the government is telling people how to act and what they can and can't do. The need for fun / pleasure / enjoyment is also not being met as in the past, since there are many restrictions preventing people from meeting this need, such as closing down parks & beaches, closing down all the performing arts venues, Disneyland , etc.
But the best way to shorten any depression is to look for alternative ways of meeting these needs other than anti-depressant BLACK BOX WARNING Psychiatric medication that have suicide ideation as a first side effect.
As Judy Garland did when she refused to sing the original words to the song, because it was too depressing. By doing so, she put the writer of the song in a position where he had to change some of the depressing words. You can see and hear the changes that were made below, when Judy Garland sang the revised song in the movie. Also Frank Sinatra changes the wording further, since he wanted to make the song even more consistent with happiness.
Therefore, a lesson from Judy and Frank, make choices in your life that will meet your needs in a more positive way and always remember, happiness is your choice.
*The original words of:   "Have Yourself A Merry Little Christmas"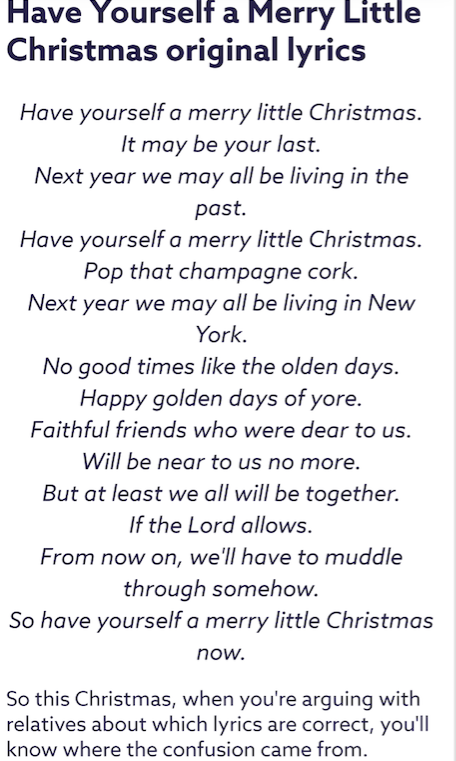 Judy Garland rendition:

Frank Sinatra rendition:   

** Issue 15 — Higher Human Psychological Needs (Common in all human beings.), I.E, 1. Love and Belonging (Family and friends) 2. Self Worth and Achievement (work, school, etc.), 3. Freedom (Do and go where you want) and 4. Fun (Learning new information, general pleasures, etc.). The lower Basic Human Needs are food, clothing and shelter.
---
Bart P. Billings,Ph.D.
COL SCNG-SC, Military Medical Directorate (Ret.)
Licensed Clinical Psychologist CA PSY 7656
Licensed Marriage, Family Therapist CA LMFT 4888
—Director/Founder International Military & Civilian Combat Stress Conference
—Initial Enlisted Ranks and Retired as Medical Service Corps Officer with a total of 34 years in US Army
—Recipient of the 2014 Human Rights Award from Citizens Commission on Human Rights International & The University Of Scranton "Frank O'Hara Award" in 2016.
bartbillings@yahoo.com
http://bartpbillings.com ("Invisible Scars" & "Unhealthy Eating …" Books Website)
www.combatstress.bizhosting.com (Combat Stress Conference website)
—Cell 760 500-5040
—Ph  760 438-2788
AVAILABLE NOW
"INVISIBLE SCARS" is available at Amazon.com: http://a.co/1WKPjsc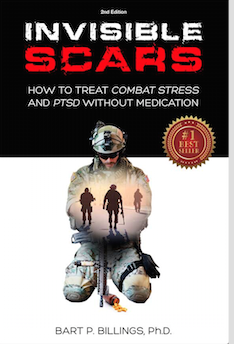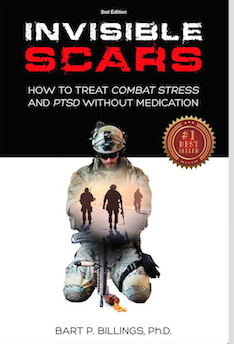 Some Amazon 5 Star Recent Customer Reviews
– This Book Saved My Life.
– I am sure that this book will save lives.
– 25 pages into Invisible Scars, I knew that it was the second most important book I would ever read…after the Bible. — David T. Ossian, Asst. National Vice Commandant , Marine Corps League
– This book is life changing…everyone needs to read …. 
---
MOST CURRENT NEW BOOK
"HEALTHY EATING" is available at Amazon.com: http://a.co/4wlhtsa